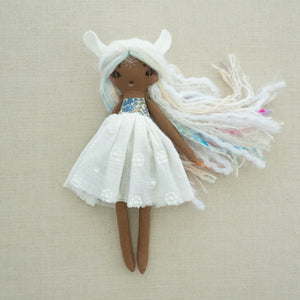 Meet the Forest Creature Petal Pixie! 
At 10" tall our Petal Pixies are wonderful pocket friends. Easy to pack on long trips and they also make a darling "little kid" to the regular pixie doll! 
Our Petal Pixie hair is made from a mix of yarn and she comes with a tiny removable outfit!
The Pixie is made up of cotton, wool/rayon felt, and stuffed with recycled pollyfill. The yarn hair is a combination of wool, mohair, and acrylic yarn. All our dolls have button jointed arms. Each doll is lovingly hand stitched in Asheville, North Carolina.
Forest Creature dolls are not intended for children under 3. They are best suited for snuggling, tea parties, road trip adventures and less for hard play... and not at all suited for tug of war. If any FC doll suffers injury in the line of duty please email us and she'll be happy to fix them back up.
Spot clean as needed.